Industrial high pressure in-line fan ventilators, high temperature fan and inline ventilators, centrifugal and axial fans, roof / wall exhaust and supply fans and inline ventilatorsand high pressure blowers.
BLOWERS DEPOT

Inline Fans


In-line Powerfoil Fans thus offers the combination of superior performance comparable to scroll type centrifugal fans and minimum space requirements formerly associated only with axial fan types.


Inline centrifugal fans provide the performance of a centrifugal fan with the space saving advantages of an axial-type fan. With a variety of designs to choose from, these fans offer the flexibility to meet the performance and application requirements at very high efficiencies.


Direct Driven and Belt Driven units are selected according to customer's applications.
In addition to the obvious space saving advantages of the tubular design, the need for duct turns and transition pieces is eliminated, thus providing simpler and less costly installation. Inlet and outlet diameters are identical and floor, wall or ceiling installation for vertical or horizontal airflow can be made with equal ease.


Sizes with wheel diameter from 10-1/2" thru 49" are available. Capacities range to 67,407 CFM and 8-1/2" static pressure. In-line Centrifugal Powerfoil Fan is the answer to air handling problems where space is limited. Ceiling, floor, or wall mounting arrangements with your choice of five motor positions provides maximum flexibility in either horizontal or vertical configurations.


The aerodynamically designed conversion vane system not only straightens the airflow, but also assures turbulent free flow at the discharge which minimizes noise.


The backward curved and airfoil wheels have been designed to produce ultra high efficiency over a broad performance range with extremely low sound generation.
Airfoil bladed wheel represents the ultimate in centrifugal wheel construction and is designed for optimum trouble-free performance and longevity.

TDC Tubeaxial Direct Drive Duct Fan - Canada Blower

American CoolAir Type T duct tubeaxial Model TDC Fans are high performance, axial flow fan designed for duct connected applications, suited to meet your ducted fan needs for high pressure and air volume both economically and efficiently. Suggested for commercial and industrial uses such as make-up air systems, booster fans, return air fans or to exhaust contaminated or high temperature air, Canada Blower type TDC fans are available in a large selection of CFMs (from 1,500 to 76,000 CFM) and operate efficiently against static pressures up to 2.5 inches.

Blade Assembly: The propeller assembly is connected directly to the motor shaft. There are no fan bearings or belts that require maintenance. Canada Blower TDC models have from 3 to 6 cast aluminum airfoil blades that are securely attached to a heavy cast aluminum hub. Blade pitch is set for catalog performance. Type TDC fans incorporate specifically engineered airfoil sections and hub sizes for optimum efficiency and physical strength.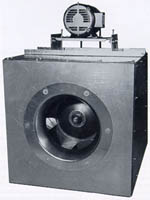 Call us today: 1-888-763-1800 E-mail: nis@primus.ca