Industrial power roof fan ventilators, high temperature fans and high pressure ventilators, centrifugal and axial roof fans, power roof / wall exhaust and supply fans and inline ventilators and blowers. Quick delivery of industrial roof and wall fans / ventilators

.

BLOWERS DEPOT

Roof Exhaust Fans
Type Canada Blower JBH Up Blast Power Roof Ventilators
APPLICATIONS: American CoolAir JBH ventilators are designed for use in factories, warehouses, commercial buildings, machine rooms, where it is necessary for the fan assembly to be located above the roof, to discharge up and and to have low profile.
CONSTRUCTION: Canada Blower JBH ventilators are constructed to discharge vertically so that air velocity seals the opening against rain and snow. When the fan is off, counterbalanced fiberglass damper doors/flaps close by gravity to a weather-resistant closure and serve as a skylight. The motor and drive components are recessed into the roof curb. The ventilators utilize a cross-frame to support stationary shaft-bearing-cast aluminum hub assembly. Drive belt power is applied to the fan/hub assembly in the same plane as the bearings, reducing bearing load and increasing bearing life. Bearings are permanently lubricated and sealed. The six die-formed steel propeller blades are securely attached at three points on the hub. All Canada Blower blade assemblies are dynamically balanced.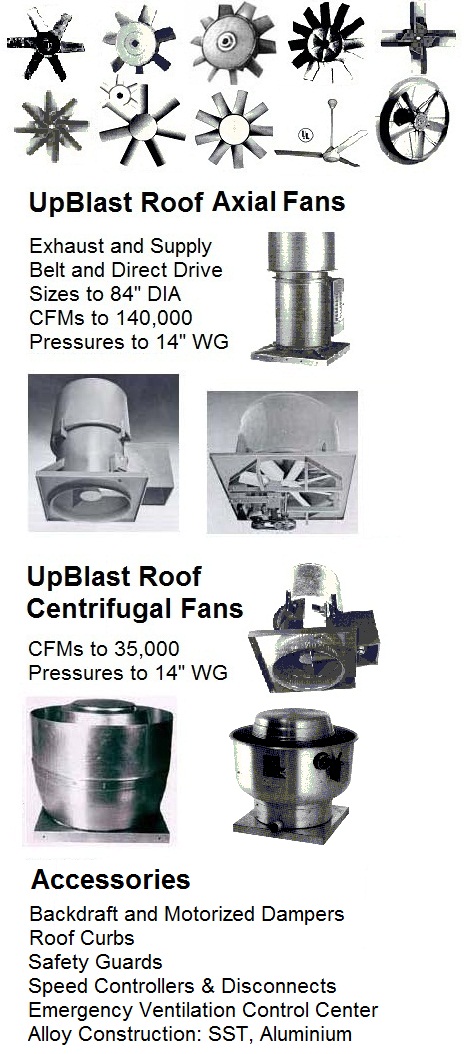 Tubeaxial Up-Blast Roof Ventilators provide cost effective, general-purpose ventilation of commercial buildings. Belt and direct drive fan models are available with adjustable pitch, cast aluminum or fixed pitch, fabricated steel propellers to meet specific application requirements.

• Direct drive fan sizes 14" to 84"
• Belt drive sizes 14" to 60"
• Capacities from 730 CFM to 120,0000 CFM
• Static pressure to 3" w.g.

Upblast roof exhausters include a heavy-duty, galvanized steel stack cap with butterfly fan dampers to discharge air upward and prevent recirculation into the building. A splash guard located over the damper pivot area protects against rain entry.