Industrial high pressure FRP blowers, high temperature fiberglass fans and ventilators, centrifugal and axial FRP fans, roof / wall exhaust and supply fiberglass fans and inline FRP ventilator blowers. Sales of centrifugal fiberglass pressure blowers and axial FRP blower fans.
FRP Pressure Blowers
Corrosion Resistant Fiberglass Ventilation Fans / Blowers:

Fiberglasss construction is recommended where corrosive elements exist in fume or vapor form. We offer a broad range of products for any corrosive application with time-tested, reliable performance and long-lasting durability. Fiberglass fans are lightweight, yet extremely strong for a long service life. We offer a variety of fiberglass props with an airfoil design, and manufacture the only fiberglass wheel in a solid, one-piece design. We can also provide a moisture-resistant coating (HartKoate) when both moisture and corrosives exist in the airstream.
FRP Pressure Blowers are designed for highly corrosive application to handle acid vapors, and organic and inorganic chemical fumes that are highly corrosive to metal at temperatures up to 250 F. Fan applications include scrubber systems, odor control systems in wastewater treatment plants, laboratory exhaust systems, metal finishing and chemical-process industries. Fiber-reinforced-plastic pressure blowers are made from chemical grade polyester or vinyl ester resins and reinforced with glass or fiber. Additional surface veil is available depending on the application. Capacity range of FRP Pressure Blowers is from 0 to 8,000 CFM and static pressure range is up to 40" WG.
Housings of FRP Pressure Blowers are rotatable and fabricated of polyester resin based FRP , while FRP fan wheels are made of vinyl ester resin FRP to allow for more strength. 316 stainless steel, or Hastelloy C-276 alloy wheel and shaft assemblies are available. FRP ORB self-cleaning wheel design and FRP Pressure Blower wheel design are used depending on application. Standard fan shafts are made of C-1040/1045 steel covered with FRP sleeve. 316 stainless steel shafts are optional. Inlet/outlet flange drilling is according to ANSI 125/150 bolt pattern, or Voluntary Product Standard PS15-69. Neoprene gasketing with Teflon Shaft Seal, or Viton seal element in FRP casing is provided where low leakage is desired.
FRP Pressure Blower Accessories include outlet flanged wafer-type damper, made of FRP; inlet vane damper in FRP construction; companion flange with collar in FRP construction; unitary base available with spring or rubber-in-shear RIS isolator ; drain and plug threaded FRP drain with PVC plug; inspection port ; surface veil provided in compliance with ASTM D 4167; all-vinyl ester airstream; graphite impregnation to control static electricity; adjustable motor base ; OSHA Guards and Motor weather cover; drive components; VFD duty high efficiency motors; and others.
Teflon Impregnated Flexible Connectors to isolate FRP pressure blower and to allow for mis-alingment of piping.
FRP Blower Silencers are offered as inlet and discharge silencers with FRP sound absorbing elements. 304, 316 stainless steel options are available as well.
Controls and drives: variable frequency drives (VFD), magnetic motor starters, are available in NEMA 1, NEMA 3R, NEMA 4 enclosure, as well as complete set of electrical components for x-proof fan applications.
<>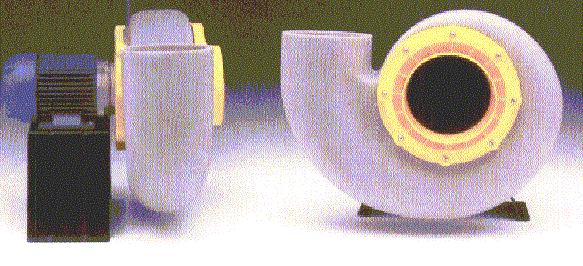 Call us today: 1-888-763-1800 E-mail:
nis@primus.ca











Canada Blower FRP General Purpose Fume Exhauster backwardly inclined fan wheels provide high efficiency and quiet operation with a nonoverloading horsepower characteristic. Made of premium-quality, corrosion-resistant vinyl ester resin. Metal hub, shaft, and stainless-steel fasteners are encapsulated in full-thickness FRP.


Fiberglass Fans and Blowers: Canada Blower Co. is a major supplier of plastic and fiberglass fans and blowers for industry applications where aggressive media must be moved. Plastic fans include polypropelene, PVC, PVDF, fire retardant and UV resistant PPs.

Applications for Corrosion and Chemical Resistant Canada Blower Fans include:

* University, Medical Research, Defence Labs, Fume Hoods OEMs, Pharmaceutical Labs

On most campuses there is a certain number of fume hoods that are used for various acids testing to break down materials for analysis. HCl and Perchloric Acid are the ones used most commonly. Fume hoods and Chemical resistant fans are needed.

* High Technology Semiconductors, PCBs, and Photonics

Chip makers use acids to clean metal before they mount thin film on the metal upon which they lay circuitry.

* Printed Circuit Board Industry

FRP fans are frequenly used for clean rooms.

* Waste water and Sewage Treatment Plants

Hydrogen Sulfide builds up (H2S) in sewage plant facilities and causes an odor problem that has to be treated. Depending on the size of these stations corrosion resistant fans are needed. This gas can also be very volatile and will require explosion proof motor and static grounding of the fan housing by graphite impregnation that Canada Blower can provide too.

* Salt Air and High Humidity Environments

Any facility near the salt air is also a good place for plastic fans and the humidity will eat through metal fans.

* Steel and Wire Manufacturing

As the steel comes in and sits at these plants impurities and scale develop on the steel or the wire that needs to be cleaned off before the wire or steel can be properly worked with. Acid baths are needed for this and the corrosive fumes coming off these aced baths are highly corrosive...

* Stainless Steel and other Metal Production Facilities

In the annealing and Pickling process acid baths are used to strip scale off the steel after the annealing process that smoothed out grain patterns that may have formed during the annealing process. Later on acids are used again to support oxidation.

* Chemical and Petrochemical Industries

* Jet Engine and Power Plant Turbine Manufacturing or Servicing

Molted Salt tanks are often used here to descale metals coming out of hot furnaces. Pickling and cleaning of titanium which is used in Jet engine parts also utilize acid baths as does nickel plating.

* Electroplating and Metal Finishing

These industries use fiberglass fans and fume scrubbers.

* Scrubber OEMs and Designers

FRP fans are standard components in fiberglass srubber designs.

* Industrial Galvanizers

* Printing Press Service Shops

* Chromatography

* Food Processing

Often in the food processing industry they wash equipment down with acids and other corrosives. Also they use fans for the humidity that builds up from the drying process of foods.

* Pulp and Paper Industry

Pulp and paper manufacturers are very wide users of fiberglass blowers and other plastics fans for their boilers, exhaust and filtration systems.

Canada Blower fans are the finest quality blowers available for efficient movement of corrosive, humid, or polluted air, gases, and fumes. These fire-retardant and corrosion-resistant plastic fans are specially designed and especially suited for hostile applications where coated metal blowers typically corrode. Canada Blower fans are proven thoughout the world and clearly recognized for superior quality, reliability, and efficiency.

High-efficiency Canada Blower impellers result in low power consumption, operating costs, and quieter operation. All metal hardware is completely sealed from exposure to corrosion by incapsulating into FRP or plastic; the steel support frame and motor base are powder coated with a corrosion-resistant finish. In addition to being highly resistant to chemical corrosion, PP fans are self-extinguishing and will not support combustion.

Canada Blower fiberglass fans housings are manufactured from premium grade, fire resistant resins that provide excellent corrosion resistance in most chemical environments. Canada Blower FRP impellers are made of premium vinyester that combines corrosion resistance with structural integrity under the stress of fan rotation.
Applications:
Municipal
Aeration
Biomass
Landfill
Odor COntrol
Pumping Lift Station
Pollution Control
Wet Well
Water Quality Lab
Industrial Buildings
Food Processing & Packaging
Agribusiness
Battery Room
Electroplating / Galvanzing Process
Pulp and Paper
Pharmaceuticals Semiconductor Fab
Precious Metal Reclamation
Chemical Storage, Mixing, and Processing
Pollution Control
Fans for scrubbers
Laboratories, Research Facilities & Healthcare
Infection Control Cleanrooms
Hospital or Clinical Labs
Biological Containment Labs
Pathology
Pharmacy
Laundry Exhaust
Nuclear Imaging
General Chemistry Lab
Radio-Chemistry Lab
Animal Laboratory
Vivarium
Fume Hoods
Hydrofluoric Acid Hood
Perchloric Acid Hood
Other Applications
Swimming Pool
Photo Processing
Coastal Buildings
Military
Marine
Products




- continuously at 650 F

- 3 Hours at 800 F

- 1.5 Hours at 1000 F

- 1/2 Hour at 1,200 F


Quick supply of idustrial axial fans, air circulation ventilators, warehouse ventilators,
tubular acoustafoil fans, wind tunnel fans, blast blowers,
high volume ventilation fans, hot air ventilation fans, industrial exhaust fans, portable industrial blowers, garage ventilators, PRV roof fans, explosion proof pressure blowers, wall ventilators, fan wheel blades, combustion pressure blowers, pvc ventilators, ID fans, FD fans, force draft ventilators, induse draft blowers, propylene & FRP PVC ventilators, spark-resistant blowers, sealed ventilators, dust collector ventilators & fans.
High temperature fans, industrial process pressure blowers, high pressure side channel regenerative pressure blowers; industrial; process and commercial heating; ventilating and air conditioning equipment.
Engineering of through the wall exhaust fans, airflow exhaust ventilators, fume hood exhaust fans, roof / wall supply blowers, paint booth ventilation fans, high pressure air blowers, air pressure blowers, high temperature air blowers, rotary air blowers, air fan-blowers systems, roof blowers, roots blowers, oven / dryer exhaust ventilators, heavy-duty ventilation fans, spray booth exhaust fans, New York blowers, Dayton fans, Chicago blowers, American Coolair ventilators, ACME ventilators, Twin City fans, Aerovent fans, Cincinnati blowers.